The Morton County Northeastern Watershed Project is a grant funded program designed to provide technical, financial, and educational assistance to agriculture producers and other landowners within select watersheds.  The goal of the project is to improve the water quality of Sweet Briar Creek, Crown Butte Creek, Otter Creek/Harmon Lake and their tributaries, and restore the riparian habitat of these watersheds by implementing best management practices.  Please see the "New 319 Grant" article below for more information.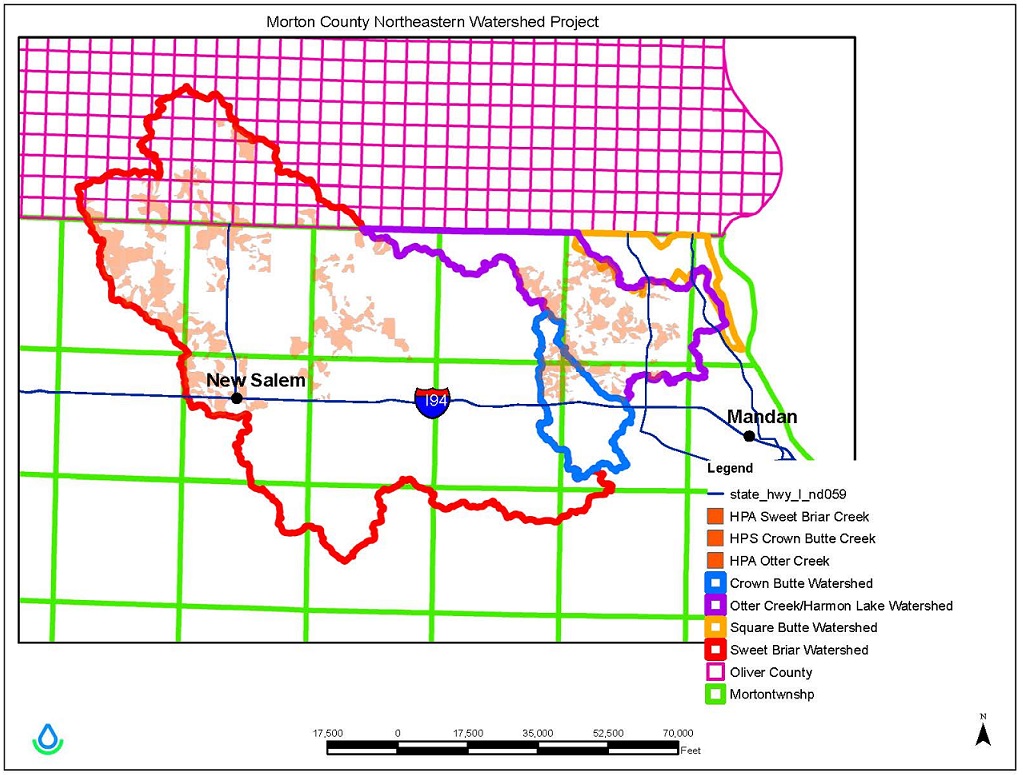 The map above depicts each watershed under the project, as well as the high priority areas of each watershed.
 The project sponsors intend to:
Provide technical and financial assistance to lands that have the most impact on water quality.
Track water quality trends over the life of the project to rectify any concerns as they surface.
Develop educational programs to heighten public awareness of non-point source pollution concerns and solutions, and
Develop working partnerships in the local community to benefit natural resources.
New 319 Grant
EPA 319/ND Health Department Grant
Morton County Northeast Watershed Project
The Morton County Soil Conservation District has received a new 319 grant from the North Dakota Department of Health for 2013. This grant will take a comprehensive approach in improving water quality in the following watersheds: Otter Creek/Harmon Lake, Crown Butte Creek, and Sweet Briar Creek. Cropland, pastureland, animal feeding operations, and riparian areas will be the main focus of this grant project.
The Morton County Northeastern Watershed Project will provide 60% cost-share assistance for Best Management Practices (BMPs) that will improve the watershed. Those BMPs include: constructed wetlands, cover crops, critical area plantings, dikes, diversions, fencing, field border, filter strip, grade stabilization structure, grassed waterway, hedgerow planting, access control/use exclusion, manure transfer, nutrient management, pasture & hayland planting, pipelines, prescribed grazing, range planting, riparian forest buffer, riparian herbaceous cover, roof runoff structure, sediment basin, stream channel stabilization, streambank & shoreline protection, salinity & sodic soil management, trough and tank, vegetative barrier, livestock manure management system (full containment and partial containment systems), waste utilization, water and sediment control basin, water spreading, well, well decommissioning, wetland creation, wetland restoration, windbreak/shelterbelt establishment.
Producers interested in cost-share will be ranked based on location of operation or property located in the priority watersheds: Otter Creek/Harmon Lake, Crown Butte Creek, and Sweet Briar Creek and severity of need.
Producers in the Otter Creek/Harmon Lake, Crown Butte Creek, and Sweet Briar Creek watersheds that have septic systems that are 30 or more years old and have had problems should also look into the cost-share assistance provided by the Morton County Northeastern Watershed Project to replace that system. For more information about the project and how your operation could qualify for cost-share dollars, please contact the Morton County Conservation District at 667-1163 ex. 3.