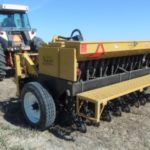 Within the last few months the Morton County SCD has purchased a 10' Truax Grass Drill. This wouldn't have been possible without the help of the ND Game and Fish Department and the US Department of
Interior, Fish and Wildlife Service Federal Aid funds under the Wildlife Restoration Act (CFDA# 15.611). With the help of these two agencies we can now provide this service to Morton County.
For more details, please call the office at 701-667-1163 ext. 3.
Morton County Truax Drill Spec Sheet
Truax On-The-Go Model 7516
Minimum HP Tractor – 60 hp
Seeding Width – 10′ Overall Width – 14′
Row Spacing – 7.5″
Pulled by Hitch Pin/Drawbar NOT A 3-POINT
4 Hydraulic Hoses with Pioneer Tips
Pricing
You Seed
$10/acre – Minimum charge of $100
We Seed
$17/acre + Fuel – Minimum Charge of $170 + Fuel
**We seed depending upon our workload**
**$50 Delivery Fee**
Requirements
**50% Deposit of Estimated Bill**
Signed Truax Lease Agreement
Operator is Responsible for Damages
Clean/Vacuum out Drill and Seed Tubes
Clean off Excess Mud/Debris
Maximum 3 Days Use