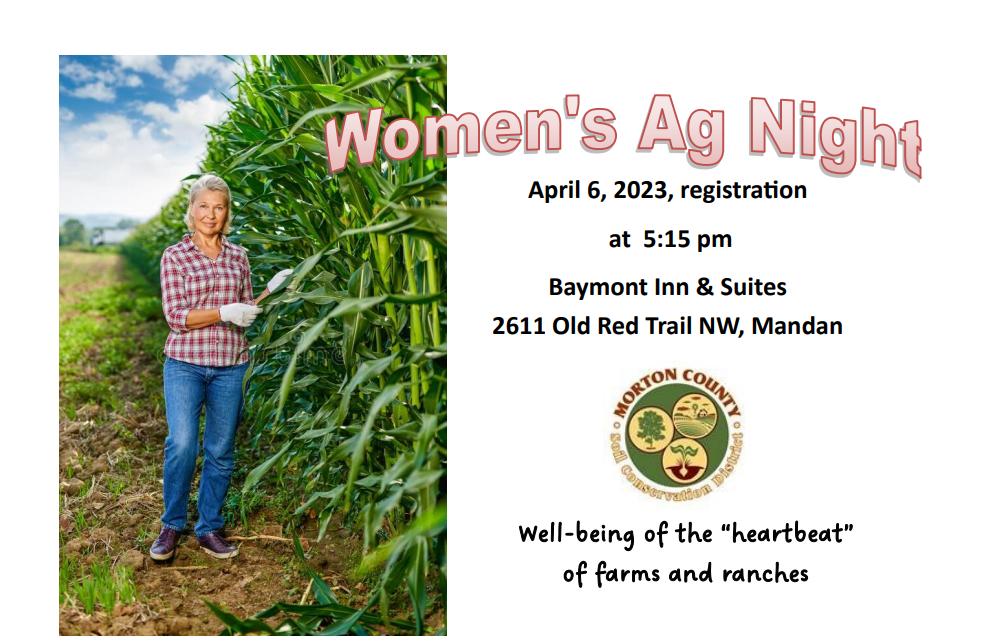 Our evenings speakers:
Anissa Gartner, Spring Valley Cattle— wife, mother, grandmother, family recipient of 2022
Leopold Conservation Award
The many hats of a woman on a ranch; struggles and triumphs in taking care of a ranch,
family, and oneself
Haley Robison—NDFB Southwest Field Representative, DSU bachelor degree in agricultural
studies and integrated ranch management
Farm and Ranch Safety
Kelsey Deckert—NDSU Extension Horticulture Agent, NDSU bachelor of science in Agricultural
Education, minor in Extension Education
Raised bed gardening and local perennials
Event is free to attend, RSVP is required – Please RSVP by 3/24
malissa.mckee@usda.gov or by calling Morton County SCD at 701-667-1163 x3
****Due to inclement weather, Women's Ag Night has been postponed. The rescheduled date is for Monday, May 8th. The event will have the same schedule and venue. If you did not previously RSVP and would like to attend, please RSVP prior to May 1. All original RSVPs will remain on our list unless you tell us otherwise.